The Project
Inspired and led by the creativity of our brewing team, we hand over tank no.7 to them to have full freedom to experiment with the boundaries of beer style and flavour. Resulting in some of the very best, cutting edge innovation in craft brewing.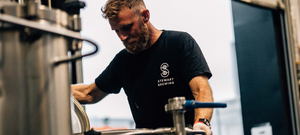 The Beers
Meticulously fashioned recipes, painstakingly perfected on our pilot kit results in standout, limited edition, super premium beer. The range promises to be diverse and original, while sometimes eccentric. And we promise will pack one hell of a punch! 
ORIGINAL DESIGN
From it's launch in 2018 until 2021 the can art was designed by Emīl Blūm. His concept was to 'look inside' the beers and discover the 'Element of Craft'. He interpreted this artistically by exploring each beer at a molecular level to unearth the secret alchemy hidden from the eye but understood through taste. By using abstract and experimental 3D renderings of microscopic elements, Emil came up with designs to represent each style of beer.
a new evolution
In 2021 Emīl decided to step away from the project to work on other things giving us the perfect opportunity to evolve the design. Since Project 7 is all about giving our brewers the chance to experiment we wanted to give the same opportunity to emerging artists. In the new look each beer features art by a different artist using their creativity to bring the beer to life. We work with local artists, graphic designers and students to make each can unique.
Project 7 Archive
First lauched in August 2018, our brew team have created over 20 stunning beers in the Project 7 series.